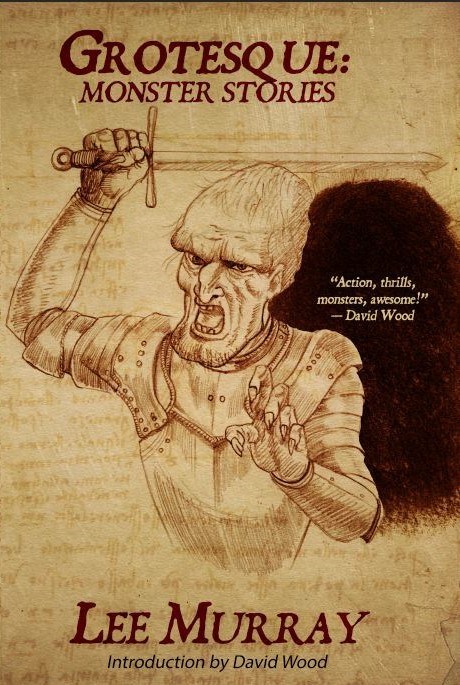 Grotesque: Monster Stories — by Lee Murray
Review by Piper Mejia
Review
Strange, mysterious, magnificent, fantastic, hideous, ugly, incongruous, unpleasant, or disgusting, but most importantly distorted, are synonyms for grotesque. This list is also the best way to describe Lee Murray's collection of eleven short stories. Spanning from historic France to present-day Aotearoa, and even into the distant future, these stories intertwine myths and monsters with the madness within us all.
The titled first piece of this collection, Grotesque, explores the idea of what is left buried should remain buried. Not all cave-ins are accident and not all opportunities should be taken advantage of when excavators find a hidden tunnel under a museum dedicated to Leonardo da Vinci. This story creates a satisfying bookend with Into the Clouded Sky – a Taine McKenna Adventure, where our returning hero is faced with the sacrifice secrets demand. While exploring beneath Lake Rotomahana Taine is reunited with someone he thought he had lost, only to let them go again to fight an unthanked never-ending battle to protect Aotearoa.
Author Lee Murray does not forget the things we do for love. Whether it is making dark promises to keep what you love in Hawaiki, or discovering that a new love will make you willing to live an unbearable life in Selfi. Some of her heroines keep their love tucked under their hearts in Heart Music and others search for it through time and distance on the pages of a journal in Edward's Journal. But not all love is kind, as in Dead End Town where the people who should love us best betray us beyond redemption.
Despite their grisly nature, there are still heroes to admire and villains to punish in this collection. Maui's Hook reminds us not to forget our heritage or what we owe our elders, as an unsatisfied deamon wreaks havoc in a summer lake hotspot. While in New Breed, a zombie inspired story depicting the survival of the swiftest, the hero does not let us forget that the rules we play by apply to everyone.
Two stories that will leave you mulling long after you close this book are Cave Fever and Lifeblood. Cave Fever is set in an unknown future, where science has perverted biological nature for society to survive long after their good intentions have lost all meaning. Conversely, Lifeblood is a heart-breaking metaphor for our times, the need to blame others for our misfortune sending us spiralling to our end all too soon in this story of gum tree diggers during the early part of Aotearoa's colonisation.
Lee is a master at switching perspective to sweep the reader seamlessly from one story to the next while retaining a unique voice. This collection will compel any reader to keep the lights on well into the night.
Book Details
| | |
| --- | --- |
| ISBN / ISSN | 979-8611527153 |
| Author Website | leemurray.info |
| Purchase | AMAZON |
| Publication Date | 24/7/2020 |
| Format | Paperback, 240pgs |